Welcome to my Sound Healing service!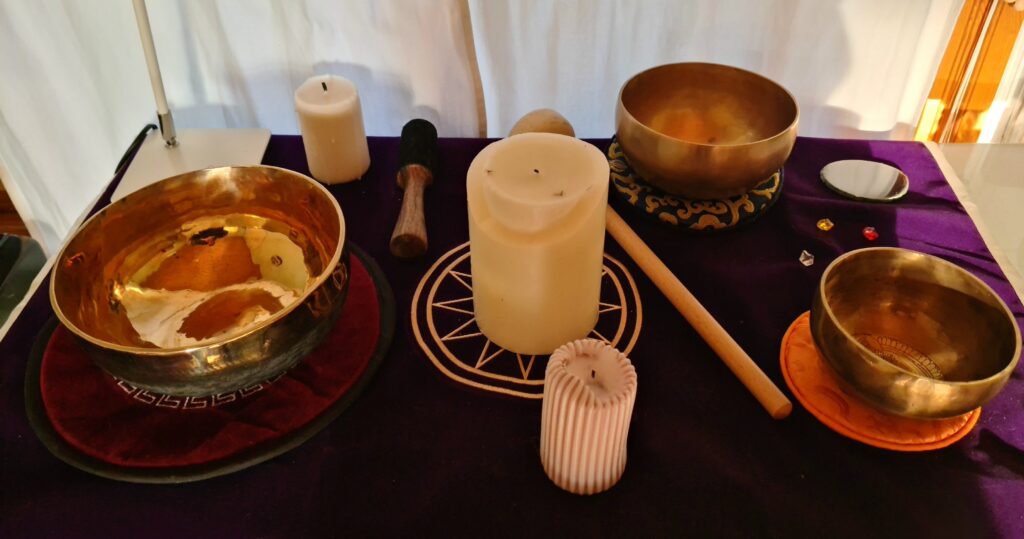 The History of Soundbowls and "Soundhealing"
Sounds from drums, flutes and soundbowls are accompaning manhood since the beginning. Our ancestors used them in lots of different ways. Even the voice of our mother was and is a very powerful instrument, it let us feel safe and supported our power of self-healing. The shaman of many ancient folks used the sound for their rituals, e.g. get in contact with the gods or to heal people of sicknesses. The soundbowls have their origin possibly in the area of Nepal, Himalaya and India. They have a very long history and were always handmade. Also in the middleages healers used music and sounds as a support. The Soundhealing, how we know it today, was created in the 60ties and 70ties in Europe. The sound of the bowl shall make our body vibrating in a harmonic way. The clapper or bowlstick is also very important, because it gets the best tones out the bowls.
Purpose of Soundbowl massage and Soundhealing
The sound shall activate the self-healing powers of your body. Bringing the soundbowl to sing changes immediately your mood and energy. Thoughts are getting quiet, relaxation and inner peace are increasing your body. Music and rhythm help you to feel inside harmony.
Energetic treatment with the soundbowls
First we have an induction about your wishes and how I can support you with the soundbowls. During the treatment you can sit or lie down on a massage table, while I play the soundbowls. Every treatment is individual. A soundhealing is only a supporting method and NOT a substitute for the visit of a doctor or therapist.
Operational area, additional to a therapy, preventive and to strengthen your health.
It is recommended to do the treatment at least three times for a more lasting effect.
Book an appointment
Prices
30 minutes 45 €
50 minutes 60 €